Eden White is a professional sales person and sales coach, for over 50 years, within the medical and surgical business in Australia and throughout the Asia Pacific Rim.
He worked for four different global companies… Read more
Are you being bullied at work or by your sales manager or team member?
If you think you are being bullied at work by your sales manager or team sales member, you should be aware of the following personal indicators:
Being less active or successful in selling, your sales results begin to decline.
Being less confident about prospecting sales, less likely to engage new customers.
Feeling scared, stressed, anxious, or depressed, ending up with a clinical depression.
Often having time off for stress or medical related issues.
My next blog will deal with such problems and give you the tools to move forward.
These are just a few issues we see as sales people. For better ways to deal with bullying in the sales team, please refer to my new book (Innovative Selling)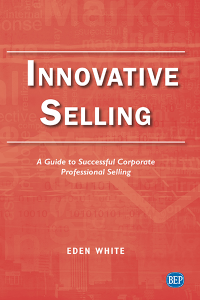 Innovative Selling is a unique book for corporate sales professionals and their sales leaders about how to prepare, manage, cope, and succeed at corporate global sales.
Recent research has discovered concerning underlying discontent with professional sales people who represent global sales organizations. This book assists the sales professionals with navigating the dilemmas and pitfalls…