Bruce Griffiths is the founder of Organization Systems International (OSI) based in San Diego, California. His company specializes in leadership selection and development and has been recognized for professional contributions…More
Competency Based Education – What REALLY Matters After College
To keep me connected to the modern world I constantly access a millennial focus group, also known as 
My Three Sons
.  One son is currently taking advantage of COVID found time to finish his undergraduate degree.  In a recent conversation he lamented that his chosen university needed to do a better job of actually preparing him for a career, and for life!  In today's world of constantly shifting content and context he pointed out that "learning to learn" and other factors might be as important as some of his course content.  He's right.
There is an established, and now growing, movement in higher education to augment curricula by testing and teaching organizational skillsets, i.e. competencies relevant for work.  This is the realm of Competency Based Education (CBE).  In my world of industrial and organizational psychology consulting we've long identified and validated competencies that count as critical predictors of success.
In fact in terms of managing and leading in organizations, research has isolated six competencies as absolutely essential:
Communications Skills: ability to dialogue in the right media at the right frequency with the right audience
Problem Solving & Decision Making: understanding how to make good fact-based judgements
Organizing and Planning: efficient multi-tasking skills in a world of complex, competing demands.
Influence Skills: how to persuade others; the skillful use of power
Relationship Building; creating authentic and trusting connections
Drive / Energy: exploring and building true personal motivation and sustainable stamina
I've had the opportunity to work with a number of universities as they've tested, and then awarded credit for these skillsets. We have also help develop systems to instill these competencies in graduate and undergraduate students.  Having been personally involved I can testify that it is incredibly rewarding to award working adults 18 units of undergraduate credit after a two day assessment center in which they've proven their competence through performance in work related simulations.   It's an instant validation of work experience and a welcome accelerator on the way to their degrees. There is also now a Competency Based Education Network (CBEN) that higher education institutions can join to explore and implement these ideas.
Along the way there has been some resistance as academicians worry about compromising the classic purposes of college, e.g.  broadening perspectives, establishing networks, exploring career options,  or exposure to new ideas and individuals. But none of these benefits have to be diminished. When successfully implemented CBE actually supplements these reasons.  Moreover, it can be a differentiator to attract students to an institution committed to success in their life after college.
BRUCE GRIFFITHS has more than 40 years' experience in leadership and consulting.  He studied engineering at the U.S. Coast Guard Academy (graduating in 1969) and served in leadership roles with Coast Guard & Navy.  Earning an M.S., I/O Psychology (1977) he worked as a consultant for a Fortune 150.  In 1980 he formed OSI and has consulted to 200+ clients like Disney, Nike, SIEMENS. He is on the faculty of UC San Diego, is a recognized global leading expert on competency modeling and the recent co-author, of "Competencies at Work" and "Redefining Competency Based Education" both published by  Business Expert Press.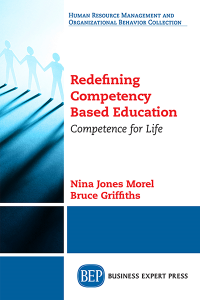 Redefining Competency-Based Education provides an expanded definition of career competence, based on actual employer hiring and promotion requirements, which enhances university curricula to better prepare students for work and life. Readers will learn how private sector competency models have evolved to define criteria for hiring, promoting, and training talent. The authors contrast these models with classic university practices to document a historic academic preference for technical preparation over the so-called…